Getting creative in an uncertain market
Hungry buyers, aggressive sellers, and increasing creativity needed for multifamily
We are seeing an uptick in listings, which is good news for hungry buyers. Sales prices are still at historic highs, but will they stay that way? And with a rapidly changing and uncertain rental market, what do property owners need to be doing to stay successful?
Buyers - If you are ready to make a move and take advantage of historically low mortgage interest rates, be prepared to come with your best and final offer early in the process. 
Sellers - If you are thinking about listing, we recommend getting in the game sooner than later to not miss this window. Feel free to test the market and see what happens.
Investors - Things like outdoor space, functional layouts that offer work from home potential, and parking that used to be "value add" features may be becoming more "value necessary" to maximizing returns.
After many months of low inventory, June was officially our first month where inventory bounced back up a bit. Looking at condo inventory city-wide there was an 11.5% increase in new units compared to data from June 2019. Not only did inventory climb, but inventory under contract went up almost 20% year over year. This illustrates buyer's eagerness to enter the market with continuing low interest rates on mortgages.
Fresh inventory is great news for buyers because there is finally more to choose from. However, as we discussed in our last article, be ready to enter a competitive market of built up demand. Make you've already spoken with a mortgage broker and be sure your pre-approval is in order before touring. Then you will be ready to submit an offer as soon as you see that perfect place. Today we are seeing frequent multiple offer situations and good listings going under contract very quickly, which is supported by the data.
How high will prices climb?
Why are we seeing an increase in inventory? Well it may actually be related to continued strong real estate sales prices even in the face of an economic downturn. Condo sellers are still getting 96.8% of asking price in June 2020. We believe sellers are noticing low mortgage rates along with nearby homes selling quickly at high prices. These two factors are very encouraging to sellers. Now may be one of the best times to sell for the foreseeable future.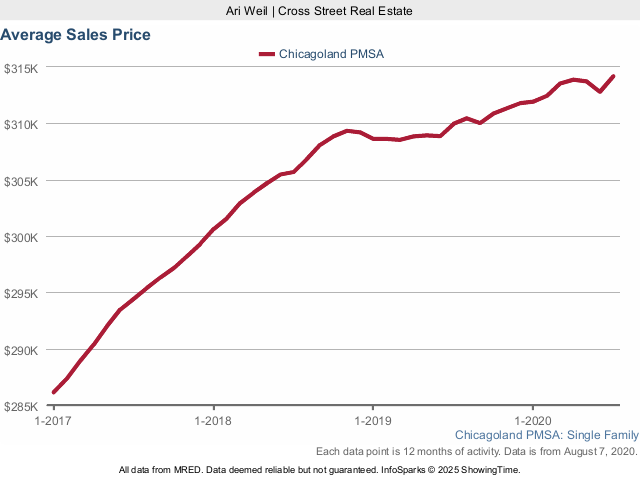 YTD sales numbers are still down, of course, as there was a big lull in activity from March to May of this year. But the increasing supply we are now seeing may end up slowing the growth in asking prices, and ultimately, we may see those sales prices start to drop.
Rental Trends and Real Estate Investing in 2020
When it comes to real estate investing, it's all about the rental market, and what kind of rental income an owner can get for their properties. Given that Peak manages the rental assets of over 500 properties many are asking us: what are the rental trends we are seeing in 2020? And what do we think those trends mean for the outlook on real estate investing?
First of all, here are several rental trends we are seeing today:
Vacancy is up

Rents seem to be falling a bit

Owners are using more concessions

More than ever demanding locations with private outdoor spaces

Prospective tenants are more concerned than ever with having adequate square footage to make working from home enjoyable
So, what does this mean for investors?
Look for assets that offer outdoor space, and functional layouts. We believe features like these will be more and more critical to getting the best rents than ever before. More people are now working from home and will continue to do so into the future, so spaces with larger common space or a one bed "plus" are going much more quickly than a smaller one bedroom for example. People are now expecting to find a place with at least a section of their own outdoor space as well, as access to public spaces have been limited. And while some of these changes may be temporary, we do believe this will have a lasting impact on the preference of renters toward more personal space, and more desire to have personal outdoor space.
You also now need more creativity and marketing power behind you than ever. It takes a lot to stand out amongst all the various listing platforms and websites. For "class A" assets having a custom functional website that engages users, an individualized social media presence, and heavy usage of virtual/ remote/ and video tours is becoming necessary to really reach prospects and become the place where people want to live. For example, we have leveraged videos for our properties like never before. For one of our Gold Coast properties 21 East Chestnut, we have built out a fully custom video tour page and are focusing our marketing on capturing videos that can be shared easily and safely with prospects who are here in Chicago or anywhere in the world.
Sign up to receive our Newsletter